HPC Werkz
Nitto Trail Grappler
Regular price
$294.00 USD
Regular price
Sale price
$294.00 USD
Unit price
per
Sale
Sold out

Trail Grappler
MUD TERRAIN TIRE
The Trail Grappler® M/T provides an aggressive mud tread design with on-road quiet ride performance.
OFF-ROAD PERFORMANCE PERFECTED
The 3-ply sidewall and thick rubber construction increase puncture resistance. Leading edge tread and side lug blocks provide additional biting edges that command lateral stability and enhance forward traction.

*Excluding 15" Trail Grappler® M/T Sizes.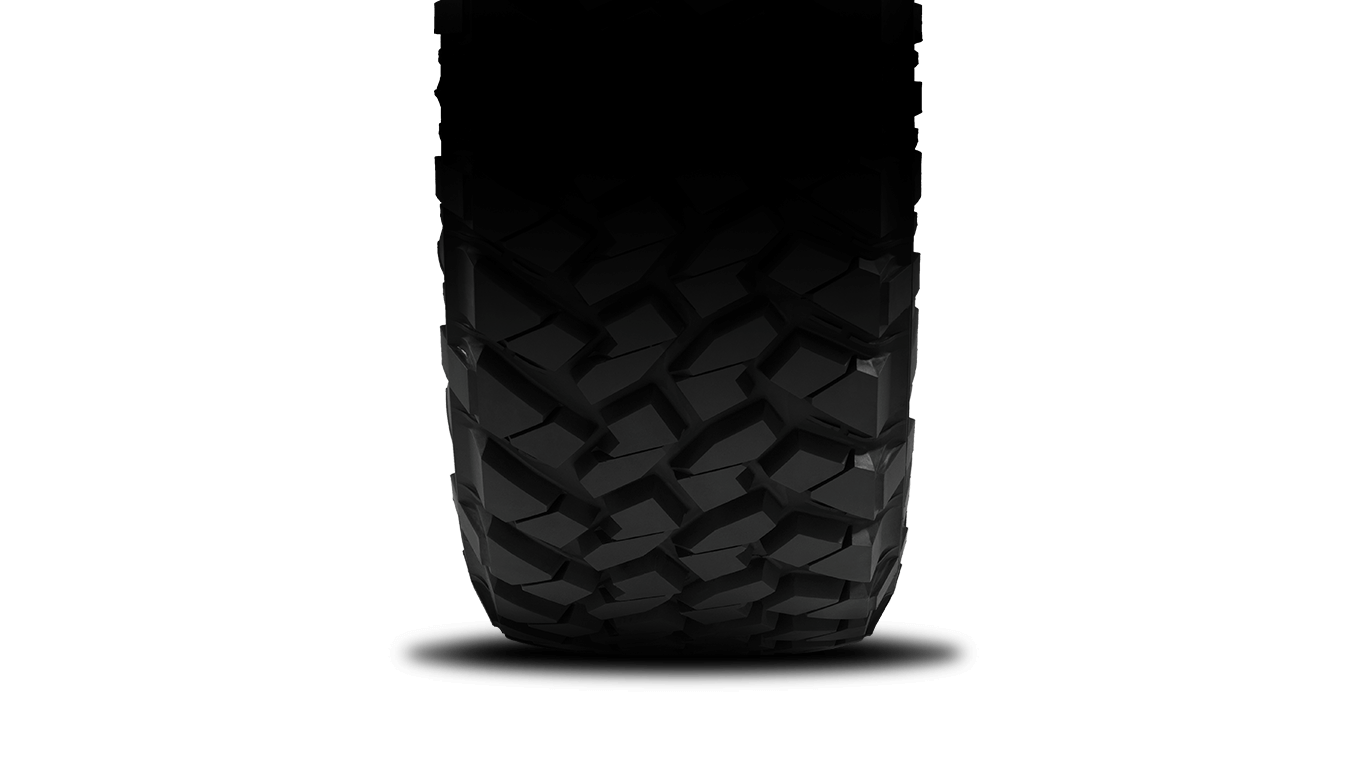 FEATURES & BENEFITS
SHOW YOUR PERSONALITY
DUAL SIDEWALL DESIGNS
Each Grappler has two sidewall designs so you can choose how your tires look. On the Trail Grappler one side has stylized lettering with V-shaped sidewall lugs and the other has traditional lettering with flat buttresses.
FEATURES & BENEFITS
GET TO THE TRAIL PEACEFULLY
TREAD BLOCK ARRANGEMENT
A common complaint with mud terrain tires is their noise level. Nitto's engineers set out to design an aggressive -- and yet quiet -- off-road tire. Using 3D computer simulation, Nitto's engineers were able to systematically adjust the size, shape and position of the tread blocks. As a result, Nitto produced an off-road tire that is 34% quieter at street speeds and 36% quieter at highway speeds.* *Compared to Nitto Mud Grappler
FEATURES & BENEFITS
MAKE IT BACK EVERY TIME
DURABILITY
The 3-ply sidewall with a high turn-up construction acts as an extra layer of reinforcement to increase puncture resistance.
FEATURES & BENEFITS
ENJOY THE RIDE
ON-ROAD COMFORT
Nitto's proprietary, automated manufacturing system produces extraordinarily uniform tires. This creates a smooth ride on paved roads.
FEATURES & BENEFITS
CHOOSE ANY LINE
SHOULDER GROOVES
Reinforced shoulder grooves add additional off-road and all-season performance without compromising tread block stiffness.
FEATURES & BENEFITS
DON'T LET RAIN RUIN YOUR DAY
CENTRAL SIPING
Deep center sipes decrease hydroplaning and increases traction in wet conditions.
TIRE
SIZE

Overall Diameter

Overall Width

MAXIMUM
Load (lbs.) @ Press. (PSI)

WEIGHT
(lbs)

 33x12.50R15LT C 108Q

33.03

12.99

2205 @ 35

71.47

 LT265/75R16 E 123P

31.89

10.51

3415 @ 80

61.69

 LT285/70R16 E 125/122P

31.89

11.50

3640 @ 80

62.91

 LT285/75R16 E 126/123Q

33.03

11.73

3750 @ 80

70.21

 LT315/75R16 E 127/124Q

34.80

12.83

3860 @ 65

82.37

 LT255/75R17 C 111/108Q

32.17

10.28

2405 @ 50

58.45

 LT265/70R17 E 121Q

31.97

11.02

3195 @ 80

60.81

 LT285/70R17 C 116/113Q

32.99

11.50

2755 @ 50

66.38

 LT285/70R17 E 121/118Q

33.15

11.81

3195 @ 80

66.39

 LT285/75R17 E 121/118Q

34.09

11.57

3195 @ 80

66.38

 LT295/70R17 E 121/118P

33.54

11.97

3195 @ 80

69.84

 LT315/70R17 D 121/118Q

34.61

13.27

3195 @ 50

76.83

 35x11.50R17LT C 118Q

34.76

11.42

2910 @ 50

72.60

 33x12.50R17LT E 120Q

32.76

12.52

3085 @ 65

68.50

 35x12.50R17LT E 121Q

34.84

13.19

3195 @ 65

79.89

 37x12.50R17LT D 124Q

36.85

13.43

3525 @ 50

84.78

 38x13.50R17LT D 121Q

37.76

13.58

3195 @ 50

90.06

 40x13.50R17LT C 121P

39.76

13.58

3195 @ 35

111.77

 LT275/70R18 E 125/122Q

33.62

11.10

3640 @ 80

65.67

 LT285/65R18 E 125/122Q

32.83

11.93

3640 @ 80

67.27

 LT285/75R18 E 129Q

35.08

11.26

4080 @ 80

69.84

 LT295/70R18 E 129/126Q

34.57

11.73

4080 @ 80

72.83

 35x11.50R18LT E 127Q

34.76

11.42

3860 @ 80

72.19

 33x12.50R18LT F 122Q

32.76

12.52

3305 @ 80

72.64

 35x12.50R18LT E 123Q

35.04

13.39

3415 @ 65

81.01

 37x12.50R18LT E 128Q

36.77

12.52

3970 @ 65

85.55

 LT275/65R20 E 126Q

34.33

10.98

3750 @ 80

67.91

 LT285/55R20 E 122Q

32.60

11.69

3305 @ 80

63.18

 LT285/60R20 E 125/122Q

33.70

11.50

3640 @ 80

67.42

 LT295/55R20 E 123/120Q

32.91

12.52

3415 @ 80

70.02

 LT295/60R20 E 126/123 Q

34.45

12.13

3750 @ 80

76.30

 LT295/65R20 E 129/126Q

35.47

12.13

4080 @ 80

75.29

 LT305/55R20 E 121/118Q

33.39

12.60

3195 @ 65

72.05

 LT325/60R20 E 126/123Q

35.59

13.03

3750 @ 65

83.01

 35x11.50R20LT E 124Q

34.76

11.42

3525 @ 80

70.41

 37x11.50R20LT E 128Q

36.77

11.42

3970 @ 80

76.98

 33x12.50R20LT E 114Q

32.76

12.52

2600 @ 65

70.74

 35x12.50R20LT E 121Q

35.04

13.39

3195 @ 65

78.44

 35x12.50R20LT F 125Q

34.76

12.52

3640 @ 80

76.83

 37x12.50R20LT E 126Q

36.77

12.99

3750 @ 65

85.84

 37x13.50R20LT E 127Q

36.77

13.58

3860 @ 65

88.03

 38x13.50R20LT E 128Q

37.76

13.58

3970 @ 65

91.23

 42x13.50R20LT C 124Q

41.77

13.58

3525 @ 35

108.78

 38x15.50R20LT D 125Q

37.76

15.35

3640 @ 50

95.64

 40x15.50R20LT D 128Q

39.76

15.35

3970 @ 50

106.33

 LT285/55R22 E 124Q

34.53

12.05

3525 @ 80

69.58

 LT325/50R22 E 122Q

34.92

13.19

3305 @ 65

75.27

 LT355/40R22 F 122Q

33.43

14.41

3305 @ 80

79.70

 LT375/45R22 F 128Q

35.55

14.96

3970 @ 80

89.36

 33x12.50R22LT E 109Q

32.76

12.52

2270 @ 65

66.03

 35x12.50R22LT E 117Q

34.76

12.52

2835 @ 65

75.09

 37x13.50R22LT E 123Q

37.05

13.78

3415 @ 65

83.57

 38x13.50R22LT E 126Q

37.76

13.58

3750 @ 65

89.11

 40x15.50R22LT E 128Q

39.76

15.35

3970 @ 65

105.72

 42x15.50R22LT C 124Q

41.77

15.55

3525 @ 35

115.59

 LT355/40R24 F 123Q

35.43

14.21

3415 @ 80

33.14

 LT375/40R24 F126Q

36.06

14.96

3750 @ 80

89.97

 38x13.50R24LT E 123Q

37.72

13.82

3415 @ 65

90.89

 40x15.50R24LT E 128P

39.76

15.35

3970 @ 65

104.45

 42x15.50R24LT C 122Q

41.77

15.55

3305 @ 35

110.80

 40x15.50R26LT E 126Q

39.76

15.55

3750 @ 65

104.32

 42x15.50R26LT D 126Q

41.77

15.55

3750 @ 50

109.79